ZAPROSZENIE
Wydawnictwo UNICORN zaprasza na uroczystą promocję polskiej edycji książki pt. "Europa. Nikt nie mówił, że będzie łatwo" – autobiografii Wilfrieda Martensa, przewodniczącego Europejskiej Partii Ludowej i byłego premiera Belgii w latach 1981 do 1992.
Wydarzenie, w którym weźmie udział sam Autor, specjalnie przybyły w tym celu z Brukseli, w towarzystwie wielu innych wybitnych osobistości, odbędzie się w gościnnych progach Uniwersytetu Śląskiego, w poniedziałek 16 września 2013 r. w godz. 17.30 – 19.30,  w auli im. Kazimierza Lepszego (ul. Bankowa 12).
Zobacz więcej – Zaproszenie (PDF)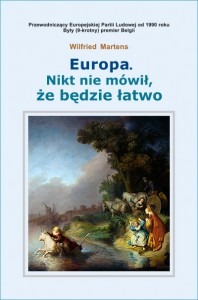 INVITATION

UNICORN publishing house has the honour to invite you to the official launch event of the Polish edition of the book "Europe. Nobody Said that It Would Be Easy" – the autobiography of Wilfried Martens, the President of the European People's Party and former Prime Minister of Belgium from 1981 to 1992.
The Author together with the most prominent guests will personally take part in the event, which will take place at the premises of the University of Silesia, Kazimierz Lepszy Hall, 12 Bankowa Street, on 16th September at 17.30-19.30 hours.
See more – Invitation (PDF)